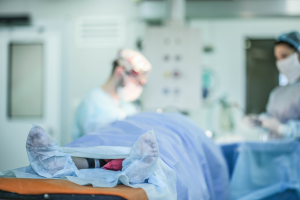 You trust your surgeon and team to complete your surgical procedure with due care and skill. However, various factors may lead to carelessness by surgical team members, potentially resulting in a surgical error that injures a patient. If you've suffered harm from a surgical error, let the Law Office of Kelley J. Johnson advocate for the financial recovery and accountability you deserve. 
Our firm focuses exclusively on medical malpractice cases, giving us extensive knowledge and experience with this type of claim. We have a proven track record of success that includes millions of dollars recovered for clients. When you choose us to help you after suffering a surgical error, you'll benefit from the skills of Attorney Kelley Johnson and her trained support staff, including a full-time nurse. Our team will always treat you with the compassion and respect you deserve. 
After you've suffered an injury or medical complications due to a surgical error, turn to the Law Office of Kelley J. Johnson for help pursuing compensation and justice from a negligent surgeon or surgical team. Contact us for a free initial case evaluation to discuss your legal options with an experienced surgical error attorney in Indiana. You pay no fees unless we recover the compensation you deserve. 
How Often Do Surgical Errors Happen?
According to a study by The Joint Commission, wrong-site surgery represented the second-most common sentinel event, or a "patient safety event that results in death, permanent harm, or severe temporary harm." Although the Commission implemented the Universal Protocol in 2003 to prevent wrong-site/wrong-procedure/wrong-patient events, it found that even in 2022, about six percent of sentinel events involved wrong-site errors. 
What Are the Different Types of Surgical Errors?
Surgeons and surgical teams can make various mistakes in the operating room. Some of the most common types of surgical errors that lead to patient injury include:
Wrong site errors

: A wrong site error occurs when a surgeon performs the correct procedure but operates on the wrong body part. For example, a wrong site error may occur when a surgeon removes a healthy lung instead of an unhealthy one. 

Wrong surgical procedure

: A surgeon can also make a mistake by performing the wrong procedure.

Wrong patient errors

: Wrong site/procedure errors can occur when a surgeon and surgical team fail to confirm the patient's identity, performing a procedure intended for a patient still waiting in the pre-operative suite. 

Anesthesia errors

: Common anesthesia errors include administering contraindicated anesthesia (such as an anesthetic that the patient has an allergy to), administering too little anesthesia (causing the patient to become conscious or feel the surgery), or administering too much anesthesia (potentially causing the patient to go into cardiac arrest). 

Failure to adequately address complications

: Surgical teams should prepare for potential complications during a surgical procedure by having additional equipment and other surgical specialists on hand and taking other precautions. Teams may fail to address complications by not monitoring the patient's vital signs. These mistakes can also occur when members of the surgical team do not communicate signs of complications or patient distress. 

Instruments/materials left inside the patient

: Failing to account for all surgical materials and equipment used during a procedure can lead to something getting left inside the patient, which can cause infections or damage to tissues. 
Most Common Causes of Surgical Errors
Surgical teams should have procedures to catch and correct errors before they occur or harm the patient. Some of the most common causes of surgical errors include:
Failure to mark the surgical site

Failure to confirm the patient's identity

Lack of communication among surgical team members 

Miscalculating anesthesia dosages

Failure to scrub down or sterilize

Surgeon inexperience 

Fatigue or intoxication

Lack of planning

Not preparing for complications

Failure to respond to signs of complications or patient distress

Failure to monitor the patient's condition
What Procedures Have the Highest Rate of Problems and Difficulty?
One study published in the Journal of the American Medical Association ranked the surgical procedures with the highest rates of complications and deaths. The top procedures included:
Partial excision of the large intestine

Excision of small intestine

Cholecystectomy

Suture of stomach or duodenum ulcers

Lysis of peritoneal adhesions

Appendectomy

Laparotomy

Excision or destruction of skin or subcutaneous lesions

Intestinal repair

Hernia repair

Intra-abdominal colectomy

Stomach repair

Laparoscopic excisions of large intestine

Exteriorization of intestine

Colostomy

Dilation and manipulation of the intestine

Pleurectomy 

Excision of muscles, tendons, or fascia

Excision of lesions from muscles, tendons, fascia, or bursae

Resection of rectum

Amputation of lower limb

Incision or excision of perirectal tissue or lesions

Closure of intestinal stoma

Abdominal diagnostic surgery

Incision of muscles, tendons, fascia, or bursae

Excision of perianal tissue

Hemorrhoid surgery

Incisions of the abdominal wall

Drainage of face and floor of mouth
What Compensation Is Available in a Surgical Errors Case?
When you've suffered an injury or complication due to a surgical error, you may have the right to recover compensation for financial and personal losses caused by your injury or medical complications. Let a surgical errors attorney from the Law Office of Kelley J. Johnson pursue maximum compensation for your:
Costs of additional medical treatment

, including additional surgeries, prescriptions, doctor's appointments, physical/occupational therapy, or pain management care

Costs of long-term care for permanent disabilities

caused by the surgical error, including medical/mobility equipment, home health care, or home renovations to install disability accommodations

Loss of wages

for time off work to recover from injuries or complications caused by a surgical error

Loss of future earning capacity

and job benefits if your injuries or complications result in permanent disability

Physical pain and anguish
Emotional trauma and distress

, including PTSD or loss of quality or enjoyment of life due to disabilities or permanent scarring or disfigurement
Contact Our Attorneys Today to Learn How We Can Help
If you've suffered harm from a surgical error, let an Indiana surgical error attorney help you hold your surgeon or medical provider accountable. Contact the Law Office of Kelley J. Johnson today for a free, no-obligation consultation to learn how our firm will fight to pursue the compensation and justice you deserve after suffering consequences from negligence during your surgery.