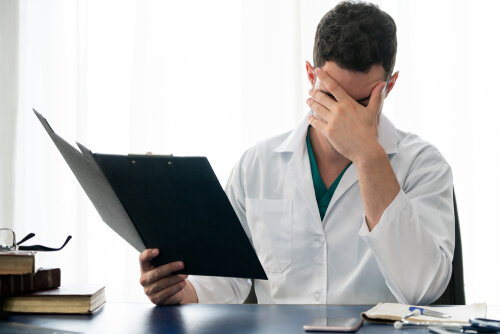 With research showing that medical errors are among the top causes of death in the United States, medical malpractice is a significant problem facing our nation today. This is true even in the armed forces. Given that we expect military service members to potentially give their lives for our country, it is unconscionable that their lives may be at risk from medical errors, as well. It's important that medical professionals be held accountable when they make mistakes that have serious consequences, especially when their victims are our honored service members.
If you've been injured due to military medical malpractice, the veteran lawyer at the Law Office of Kelley J. Johnson wants to help. With more than 15 years of legal experience, we have the knowledge and experience to help you get the compensation you deserve for your injuries. Visit our contact page or call today for a free case review.
What Is Military Medical Malpractice?
The broad definition of medical malpractice is when the treatment you receive from a doctor or other medical professional falls below what's known as the "medical standard of care." Put simply, a doctor or other healthcare professional can be held liable for your injuries if their treatment plan does not line up with what another doctor with similar training and experience would have done in a case similar to yours. Common medical errors that could be seen as negligence include:
Surgical errors
Medication errors
Misdiagnosis
Can I Sue the Military?
Veterans, as well as their families and dependents, have two means to file a lawsuit against the military for medical malpractice. If the injury occurred while they were in the U.S., they can file a lawsuit under the Federal Tort Claims Act (FTCA). If the injury happened at a military facility outside of the U.S., they can file a lawsuit under the Military Claims Act (MCA).
Until recently, active-duty personnel were unable to file medical malpractice lawsuits against the military due to a Supreme Court decision that produced the Feres Doctrine. This decision barred active-duty service members from filing a lawsuit over injuries arising from their military service. However, a law passed in 2019 now allows active-duty personnel to file medical malpractice lawsuits under the FTCA or MCA.
Federal Tort Claims Act Medical Malpractice
The law that governs most military medical malpractice lawsuits is the Federal Tort Claims Act. This law sets the rules for all personal injury lawsuits against the federal government, which includes the military. To receive compensation under the FTCA for military medical malpractice, you must file an administrative claim within two years of your injury.
These claims have very specific rules you'll need to follow, so you'll want to get help from a lawyer. Once your initial claim has been filed, the government has six months to investigate and reach a decision. If they do not reach a decision within six months, you can file your FTCA claim in federal court.
What Kinds of Claims Can Be Brought?
Some common examples of military medical malpractice include:
Contact the Law Office of Kelley J. Johnson If You Were a Victim of Military Medical Malpractice
Our experienced Indianapolis military medical malpractice lawyer at the Law Office of Kelley J. Johnson is ready to help you get justice for the harm you suffered at the hands of negligent army medical providers. Don't hesitate to call today or visit our contact page for a free initial consultation.